We headed out to Cat Harbor, Santa Catalina Island, CA. to exercise the stabilizers after the overheating event on our run back up from Coronado. Operation was normal.
We picked up a mooring port side with the help of Harbor Patrolman. Otherwise mooring gymnastics would have been required that Katy would just as well try to avoid.
Photo ops of the geological type abound on the back side of Catalina. Some of these photos are in the gallery below.
As we approached the west end of Catalina, the Furuno display showed an unexpected navigational "route segment." In the photo below, check the straight line cutting across the isthmus. It intersects the parallel course that I am following, and near the endpoint of the my route on the other side of the island. I'm not sure when this popped up or what I means. Seems odd. If I had been navigating the route on autopilot, what would the AP do? I will discuss it with Alcom at some future date and update this post accordingly.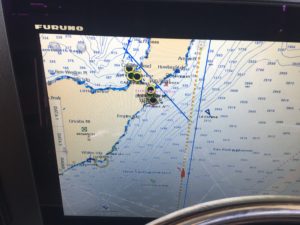 We peddled/paddled (Katy on her Hobie SUP) to the dinghy dock. We were rewarded by a pretty cold Stella and a short walk up the east bound trail from Ballast Point.
MORE…